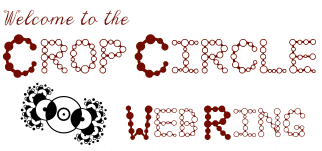 What, Why & How....
This Web Ring has been created in order to enable crop circle researchers around the world to link together their web sites in order to share a common purpose - that of raising public awareness & understanding into what has been described as possibly the greatest mystery of the modern age.
The way a Web Ring works is that each member site is allocated a unique ID, which is used to control a small Web Ring navigation panel that members add to their sites. Visitors can then jump forwards and backwards from one site to the next, around the ring. If you were to visit each site in turn, you would eventually return to the site you started from - hence the name of Web Ring!
The benefit of a Web Ring is that not only does it link like-minded sites together, but it also helps publicise your web site by encouraging more people to visit it and the only conditions of membership are that you add the relevant piece of Web Ring code to your site and that your site contains information relevant to the crop circle mystery and it's non-human origins.
Click on the relevant link below if you would like to see what sites are already in the ring, or to join the ring.

---
Taken over from Paul Vigay Copyright ©My-Hosts.com